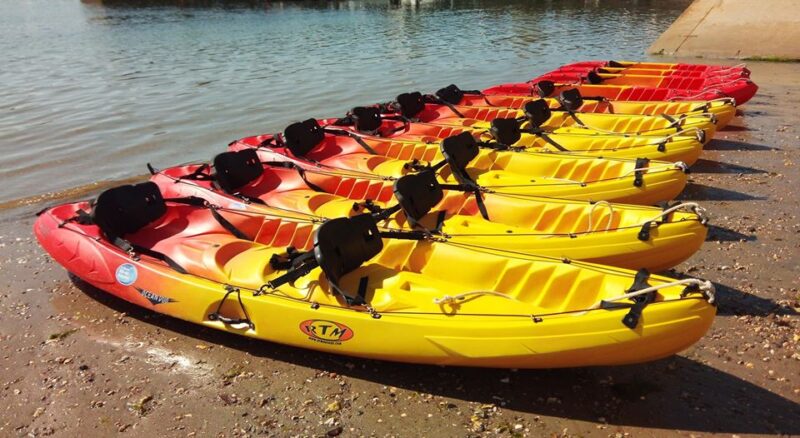 BE RESPONSIBLE ON THE WATER, PLEASE OBSERVE THE FOLLOWING:
1. Do have fun.
2. Do navigate your kayak in a safe and conscientious manner. Keep away from the inner harbour and pier head where you could come into conflict with ferries, trip boats and fishing boats. Always leave and return to the slipway / beach by going to the east of the green HM mooring (see chart).
3. Do keep a look out at all times. Be mindful of other water users, swimmers and vessels. If in doubt stop and give way.
4. Do turn the bow (front) of the kayak into any large waves / wash from power boats.
5. Do wear the buoyancy aid at all times while on the water.
6. Do keep the paddle attached to the kayak at all times while on the water.
7. Do be aware of the tide; is it coming in or going out? When is high or low water? Also wind direction / speed, this can change rapidly.
8. Do leave ample time for your return journey. Lateness will be charged for.
9. Do follow instructions and safety briefing.
10. Do ask any questions.
11. Do take your mobile and call if any problems.
12. Don't abuse the kayak or any equipment by dragging over rocks or slipways. Damage must be paid for.
13. Don't use buoyancy aids as cushions, this severely damages them.
14. Don't leave the kayak unattended and at risk of floating away, take well up the beach.
15. Don't disembark the kayak where there is mud.
16. Don't use the kayak during the hours of darkness.
17. Don't leave anything on the shoreline or at sea that wasn't there before.
18. Don't paddle more than 150 metres off shore, or pass St. Anthony's Head lighthouse.
19. Don't pass the Harbour Limit if you are not a confident paddler.
20. Don't allow anyone 16 or under to use a kayak unless accompanied by an adult.
21. Don't drink / use drugs on the water.
22. Don't behave recklessly putting lives in danger.
23. Don't forget to have fun!