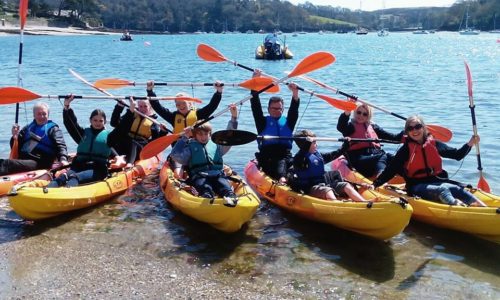 Kayak Hire
Single and double sit-on kayaks.
Discover St. Mawes & The Roseland under
paddle power- it's magical.
Fun and stable sit-on kayaks,
one of the easiest ways to get afloat.
We've all you need to get paddling.
Click here for details
ALWAYS BOOK IN ADVANCE IF POSSIBLE
-STOP PRESS-
Sorry, but my camera has finally succumbed to the elements after many years of service.
I have ordered a new one which will be in situ soon, by the end of February hopefully.
Well, I wonder what 2021 will bring…?- At the moment I am not sure that the season will actually begin on the 1st. of April. I certainly hope (as do most I am sure) that we don't get three months delay as last year! I suppose we'll just have to wait and see what transpires as we go through February and March.
I hope to see you all again soon for a paddle, when we can get going. Until then keep well,
Mark.
Paramour 2 has been sold!
For various reasons I have decided to stop running RIB Trips and Water Taxi trips. The kayaks… will continue!
Over the last few years the RNLI has seen a huge increase in the number of call-outs to rescue inexperienced kayakers and paddle-boarders. So please listen to our advice on the day, paddle within your limits, stay close to the shore, think about the paddle back (it will be more difficult against wind and / or tide), and be aware of changing conditions.
PADDLE SAFE.
We have never had any serious incidents, and I would very much like to keep it that way!
Always check the FB page for up to date information (weather / events / news etc…) Go to it by clicking the Facebook icon at the bottom of the page, or the "News" tab at the top (you don't need a FB account to view my page. If you do have one, don't forget to "like" my page while you are there- thanks).

10% off prices with the Fal Mussel Card