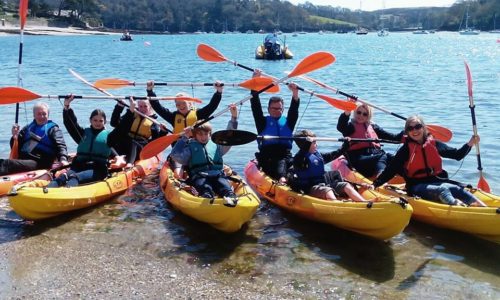 Kayak Hire
Single and double sit-on kayaks.
Discover St. Mawes & The Roseland under
paddle power- it's magical.
Fun and stable sit-on kayaks,
one of the easiest ways to get afloat.
We've all you need to get paddling.
Click here for details
ALWAYS BOOK IN ADVANCE IF POSSIBLE
-STOP PRESS-
Coronavirus Information –
We are in the best place to avoid catching the virus- outside, but it is not a zero risk, so if you feel at all unsure I urge you not to come afloat. We will be wiping down surfaces / equipment with detergent and disinfectant solution or disinfectant wipes.
I urge you to book and pay in advance, this is best done by email or using the contact form on the website. Let me know what you would like to do, with times etc… Look at the information and tariffs on the website for as much detail as possible. Payment can only be made once I have confirmed all details with you. As always any payment made will be fully refunded should bad weather scupper your plans and, in view of the current situation, if restrictions are reintroduced or any of your party become unwell this will also qualify for a full refund (I hope not too many..!). So please book with confidence.
Very best wishes and hope to see you soon, Mark.
Paramour 2 has been sold!
For various reasons I have decided to stop running RIB Trips and Water Taxi trips.
The kayaks will be running until the end of October (weather permitting). Kayaks only from 2021 onward.
Over the last few years the RNLI has seen a huge increase in the number of call-outs to rescue inexperienced kayakers and paddle-boarders. So please listen to our advice on the day, paddle within your limits, stay close to the shore, think about the paddle back (it will be more difficult against wind and / or tide), and be aware of changing conditions.
PADDLE SAFE.
We have never had any serious incidents, and I would very much like to keep it that way!
Always check the FB page for up to date information (weather / events / news etc…) Go to it by clicking the Facebook icon at the bottom of the page, or the "News" tab at the top (you don't need a FB account to view my page. If you do have one, don't forget to "like" my page while you are there- thanks).

10% off prices with the Fal Mussel Card