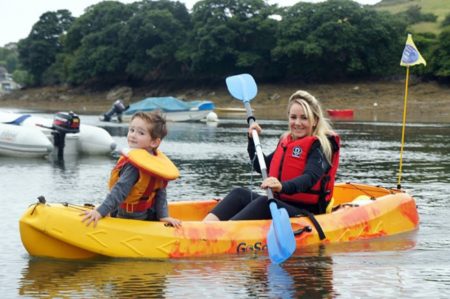 Do I really need to book in advance?
I recommend that you always book in advance (use the Bookings / Enquiries form), even if you just check availability and the weather the day before.
It can be very busy, especially in the main holidays, so if you just turn up you may be disappointed, especially if you've come a long way. Also, the sea conditions in St. Mawes could be very different from your current location, so you could arrive only to find there's no paddling.
If you have left your enquiry until the day you would like to hire, it will be best to call; however, during the main holidays it can be very busy so your call may go unanswered for a while (avoid leaving a message unless absolutely necessary).
During the early and late season I may take a sneaky day-off, if I don't have any advance bookings. So it's always best to book if you can, at all times. At least check if I'm operating and availability before getting togged-up, and making your cheese and tomato sandwiches, then turning up at the slipway for a paddle and picnic, only to find I'm 200 miles away visiting my mother…
What if I've made a booking and the weather's horrible, or it's too rough to go out?
I'm not going to send you out into the teeth of a raging gale- with modern forecasting I can usually let you know a few days ahead if your paddling trip is going to be scuppered by the weather.
If it is just raining, I find many paddlers still want to go out. You're probably going to end up a bit damp anyway so a few drops of rain won't hurt. I am not going to insist you go if it is hammering it down. There is no point in sending people out if they are going to hate it!
On some occasions you will be able to paddle up the Percuil River, but will be advised against going out into the more open waters of The Carrick Roads, due to the sea conditions prevailing on the day. This advise must be adhered to.
If visibility is poor I will not be sending you out until it has improved. You may be surprised to learn that the kayaks are not equipped with radar or fog horns!
Kayaking is subject to weather and sea conditions, and safety is paramount. Your payment will be fully refunded if I have to cancel because of the weather, but we'll try and find you an alternative date first.
What is your cancellation policy?
Apart from the above, I don't really have a cancellation policy as such, as everyone's circumstances are different, so I will always try and accommodate people's genuine reasons for cancelling and fully refund payment, if I have plenty of notice. However, if you do have to cancel fairly close to your paddling date (especially when I have been turning others away) I reserve the right to keep all, or part of your payment, if I can't re-sell your kayaks, I hope this appears fair.
To this end, only book-up when you are sure of the numbers in your party, and everyone is happy with the date, time and duration of your paddle. Ask everyone paddling to have a look at all the info. on here
May I book on line?
You may make an enquiry using the bookings / enquiries form, but there is no facility to book directly on line. There are so many variables that I prefer to have a conversation with you, usually via email, before accepting full payment and confirming your booking.
If you have an idea for your paddling trip, put as much information as you can into your message, such as preferred date, time to go afloat and duration, and the type of kayak(s) required. I will get back to you as soon as I am able. Before you make an enquiry do have a look at all the information available here on the site, and take a look at the tariff page. You can check tide times in the excellent Fal River Guide Book. Order it, or read it on the website here (tide tables are towards the back)- www.falriver.co.uk/guide-and-map
Do you offer any evening paddles?
On some summer evenings in July and August I do operate beyond 1800, if demand is there.
Will I get wet on the kayaks?
It depends on how much splashing you do. Even on a calm day you are very likely to get a damp backside at least! You are hiring a 10ft kayak not a 50ft motor launch- you will get wet…
So wear something you don't mind getting wet. Swimming shorts are ideal, and you can wear something warmer on top if you need to. Jeans or cotton trousers are not a good idea. You will also need to paddle into the water to embark your kayak, so wear sandals or go bare foot. DO NOT WEAR WELLINGTON BOOTS. During the early season a wetsuit is advisable.
Do you take cards?
Yes. In 2018 I moved into the 21st. Century!
Now we have a much better 'phone signal in St. Mawes it is possible to have a card machine. You are able to get cash with most bank cards at the Post Office (not weekends / Bank Holidays), also cash-back at the CoOp. There is also an ATM in the main car park, near the bus stop and loos.
Is there parking nearby?
St. Mawes has two car parks; The main one is on the right as you drive into the village. Turn right in front of the Rising Sun Inn. There is also a car park on the quay, this is much smaller and really only short-stay. In the summer months both car parks become crowded and you may be directed to the overflow car park at the top of the village. This involves a longer walk down to the harbour.
Please allow plenty of time to get here and get parked. The road to St. Mawes is pretty but fairly windy and narrow in places. Alternatively, if you are staying in the Falmouth area, why not leave the car behind and come over by ferry? A delightful way to reach St. Mawes.
What's the difference between a kayak and a canoe?
One main difference is that a kayak uses a double bladed paddle whereas a canoe uses a single bladed paddle. The Encyclopaedia Britannica states that kayaks originated with the Eskimos and were made of stretched sealskins. Canoes, on the other hand originated with the North American Indians and were made of stretched tree bark. Kayaks tended to be closed decked and could be righted without taking in water, hence the term "Eskimo Roll". Whereas canoes took a more open form with a higher freeboard.
Today canoe and kayak tend to mean one and the same thing for some people, even though they are quite different.
Do you hire Stand-Up Paddle Boards?
No, but I know people who do- www.ebbandflowcornwall.co.uk began in 2022, and offer tuition and hire from Summers Beach in St. Mawes. We sometimes have groups that hire kayaks and paddle boards together, for a few hours of fun on the water.
May I purchase a gift voucher?
Yes. Paddle Vouchers are available for you to give for special occasions. Email with your requirements.
Will you be open in October?
The kayaks are licensed and insured for use up to the 31st. October, so I do operate in October on fine days. I hope to always be operating during half-term week, if the weather is favourable.
What ages and sizes can paddle?
Well, as long as the smallest person can fit into the smallest buoyancy aid / lifejacket properly they can go onto the water with their parents (normally 3 and above) as a passenger in a double kayak.
From experience the youngest paddler in a single should be approx. 7, you may need to be prepared to give them a tow if they become tired. So don't race up the river with youngsters and not think about the paddle back!
With regard to the size and weight of paddlers, I have included some more information on the "Kayak Hire Rates & Info" page in the description of each kayak. Although, if you have a chest size of more than 50ins. you will not fit into the largest buoyancy aid. I hope this helps.
Are there any fishing trips from St. Mawes?
James Brown no, not THAT one!!! (07891 300078 or www.fishandtripstmawes.co.uk )  "Madeline Rose"  is  fully MCA Coded. This means James can take you deep sea fishing for the day if you wish, or on one of his 2hr family mackerel trips, which have become very popular over the years.
Self-drive boats can also be hired through James. You could even hire some kayaks and a boat, and spend the day messing about on the water.
Why did you stop running your RIB?
After 12 years of fun running "Paramour" and then "Paramour 2", 2020 came upon us and effected all of us in different ways- the first three months of the season were completely lost and it was a very uncertain time. Then July, August and September hit us like a tornado and we had six months work crammed into three months! I realise I was a good deal luckier than some.
However, I decided I didn't want to be doing 15 or 16 hour days in the summer again, so I sold "Paramour 2" at the end of the season to run the kayaks only from 2021, and have a quieter life!