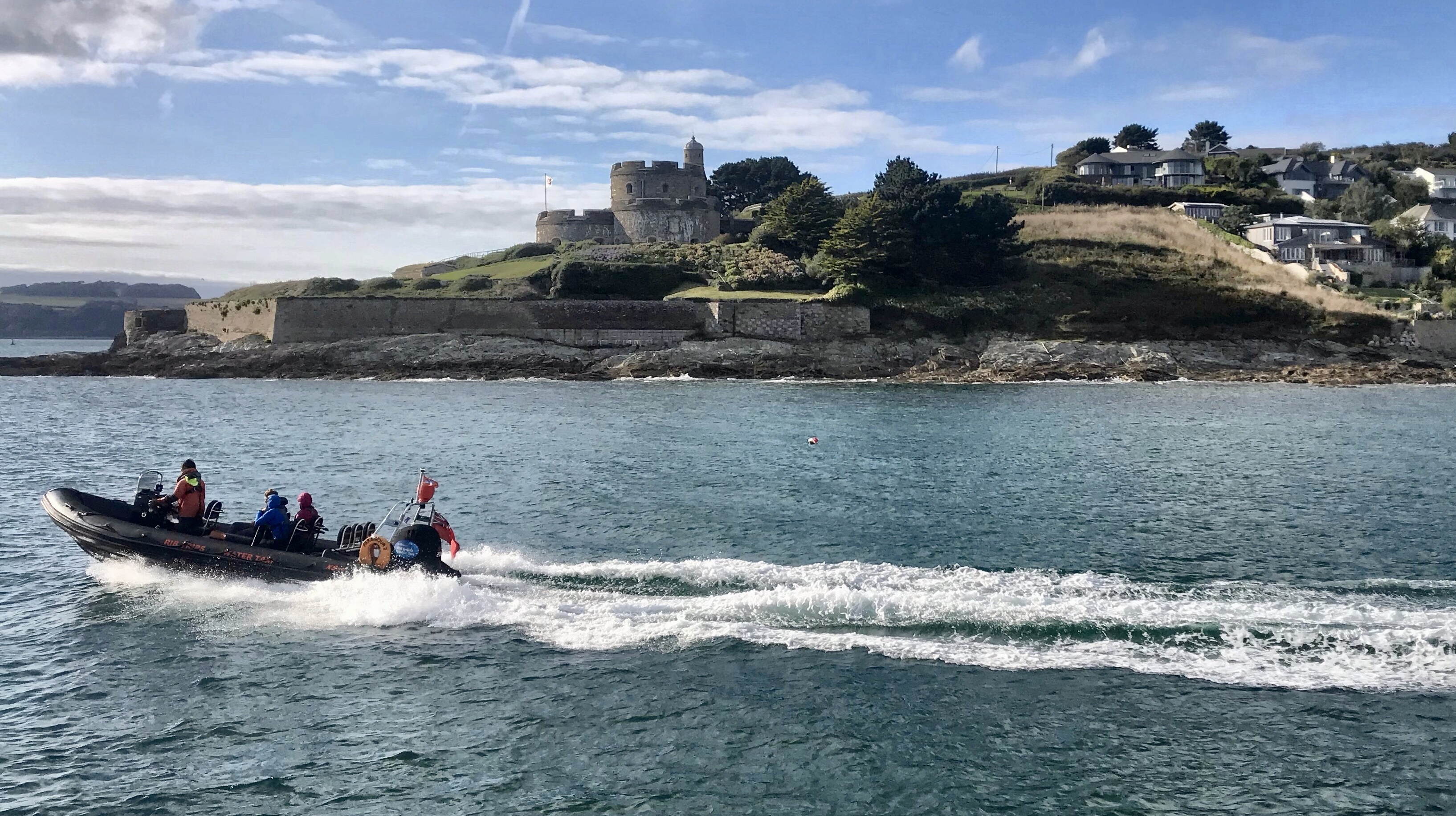 If you'd like to get onto the water for a whizz around, the 35 minute RIB trip could be the answer:
You will see a wonderful view of St. Mawes as we proceed out of the harbour at a sedate pace. After which we can open the throttle for a blast towards Lugo Rock and on to St. Anthony's Head Lighthouse (Fraggle Rock) where we may be lucky enough to see a seal or two. We'll stop here for a 'photo, and to make sure everyone's happy with the speed etc.
From here we can head west, with nothing but the vast Atlantic Ocean on our port side, the wind in your hair and sea spray flying by, towards Maenporth, Swanpool, and Falmouth's main beach Gyllyngvase. We'll probably slow up here to catch our breath, before once again opening the tap to round Pendennis Point and on towards the docks. At low tide we may see seals on Black Rock, or even be joined by a pod of dolphins, only if we're very lucky though!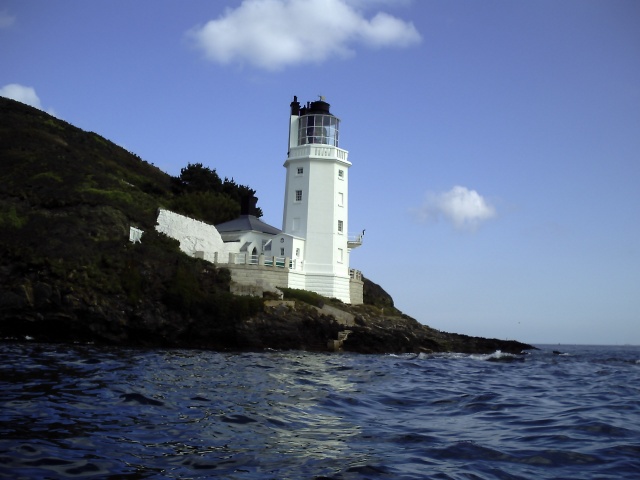 If you prefer, we can head inland up The Carrick Roads, passing St. Mawes Castle and the small bays and inlets towards St. Just-in-Roseland (If the tide is high enough we can explore St. Just Creek, and get a stunning view of the church). Passing close to the rocky and wooded east bank of The Carrick Roads we continue north to Turnaware Bar, where many American soldiers embarked for the D Day Landings, and a great view of Trelissick House. From here we head south, passing the wonderful waterside properties of Loe Beach and Feock, passing Mylor, Trefusis Point and Falmouth before heading back towards St. Mawes.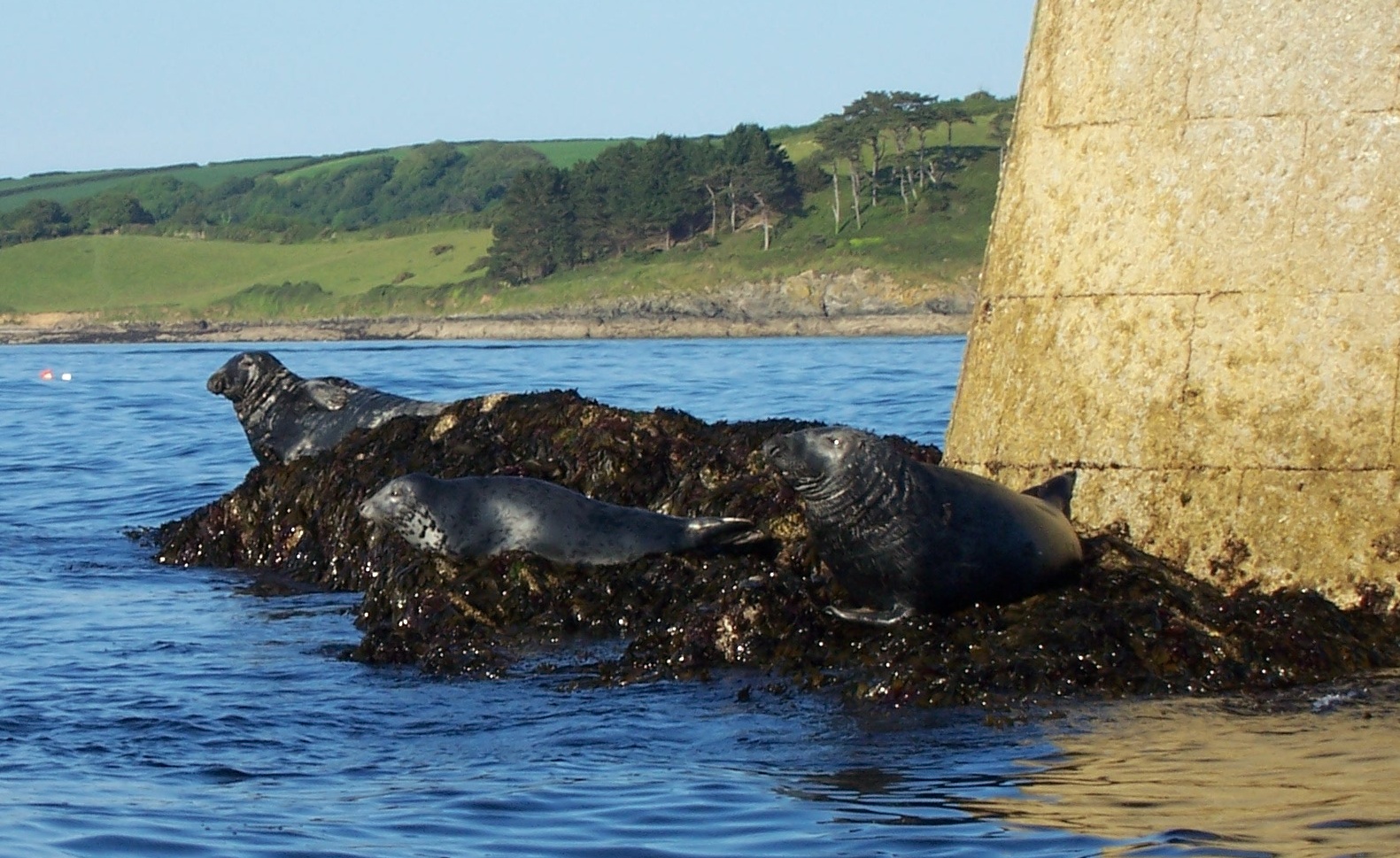 If you'd like to visit Falmouth Docks we can view the large ships that may be in, and perhaps dream of owning one of the multi-million pound Superyachts that can sometimes be seen moored alongside the marina.
You can decide on the day where you would like your trip to go.
Our course is always dependant on sea conditions. Speeds can be adjusted to suit members of your party who may not want to go too fast.
This is a fast ride on a fast RIB. It should be thrilling, but I am not in the business of "hairpin" turns, trying to throw people off and scaring passengers half to death!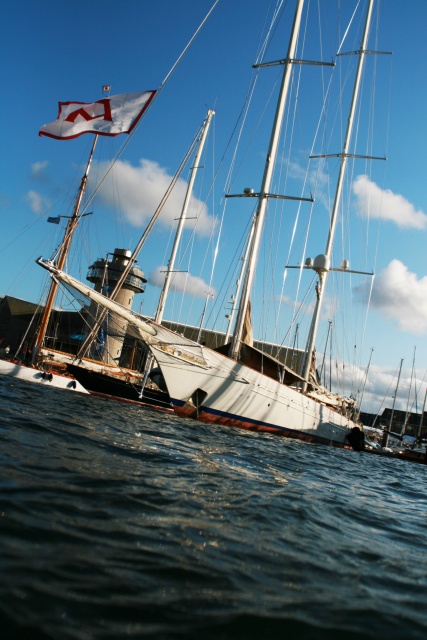 How about a ride on Paramour 2 combined with a walk?
I can drop you at many places around the Carrick Roads from where you can set off on your ramble. Or I can collect weary walkers for the trip back to St. Mawes.
Some places I can pick you up from or drop you to are: Percuil, St. Just, Turnaware Bar, Trelissick Gardens, Pandora Inn and Mylor (some places dependant on tide and you may have to get your feet wet).
If you wish to go further afield I can drop you at Helford Passage and you could take the Coastal Path all the way to Falmouth and catch a ferry back. Or stop on in Falmouth for a bite to eat, and I'll collect you later in the evening.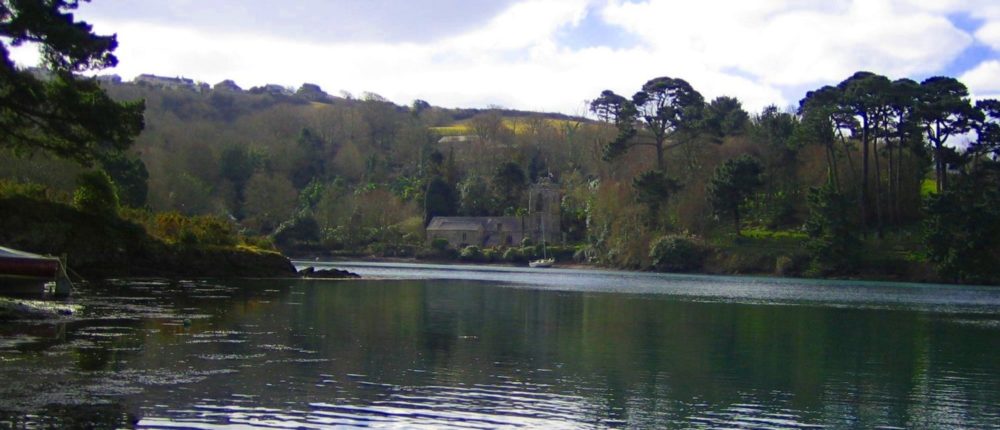 Perhaps you may wish to take a trip for lunch or dinner?
With a wealth of establishments around the estuary you could be spoilt for choice: Miss. V's Cornish Cream Teas at St. Just, Trelissick Restaurant, Pandora Inn, Cafe Mylor & Castaways at Mylor Yacht Harbour, the various restaurants and bars of Falmouth; including the Greenbank Hotel / Working Boat Pub with its own pontoon, or The Ferryboat Inn at Helford Passage, and The Shipwrights Arms at Helford Village.
You may wish to be collected and delivered in style to St. Mawes, to sample the delights of The Tresanton Hotel, St. Mawes Hotel, the Ship and Castle Hotel, Victory Inn, Rising Sun or the Idle Rocks Hotel. There's also St. Mawes Bakery, Cafe Chandlers, the View Cafe, the Watch House and Watch Out (take away), Mr Scorse and Mr Scorse Cafe for lunches and snacks. Then spoil yourself with a fantastic ice cream from Fudge & Moore. Or perhaps you'd like to get a picnic together and be left on a beach somewhere! (beach landing is very dependant on sea conditions)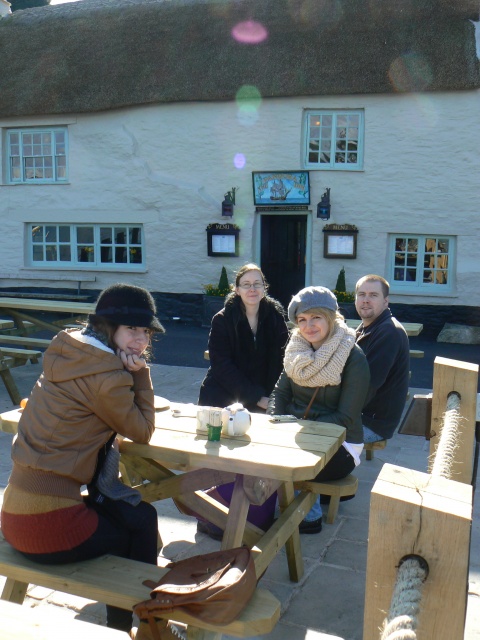 Why not spend the day exploring the picturesque Helford Estuary?
Let Paramour 2 take you over the waves to Helford. I can drop you on the beach at Durgan from where you can explore Glendurgan Gardens or Trebah (I can also drop passengers directly onto Trebah Beach, by prior arrangement. This is a poignant disembarkation, as many American soldiers left from here for D Day). From there you can visit the beautiful Budock Vean Hotel for morning coffee and then on to the Ferryboat Inn for a late lunch and pick-up from the Helford Ferry pontoon (£1.00pp landing fee applies).
An alternative drop-off point is beautiful Gillan Creek. From there take the coast path to Helford Village, and on to romantic Frenchman's Creek (I can also land you in Frenchman's Creek, if the tide permits. I do charge a supplement for this), then back to The Shipwrights Arms for lunch. If the tide is right, Paramour 2 can meet you at The Shipwrights pontoon, otherwise at The Helford Ferry landing (£1.00pp landing fee applies).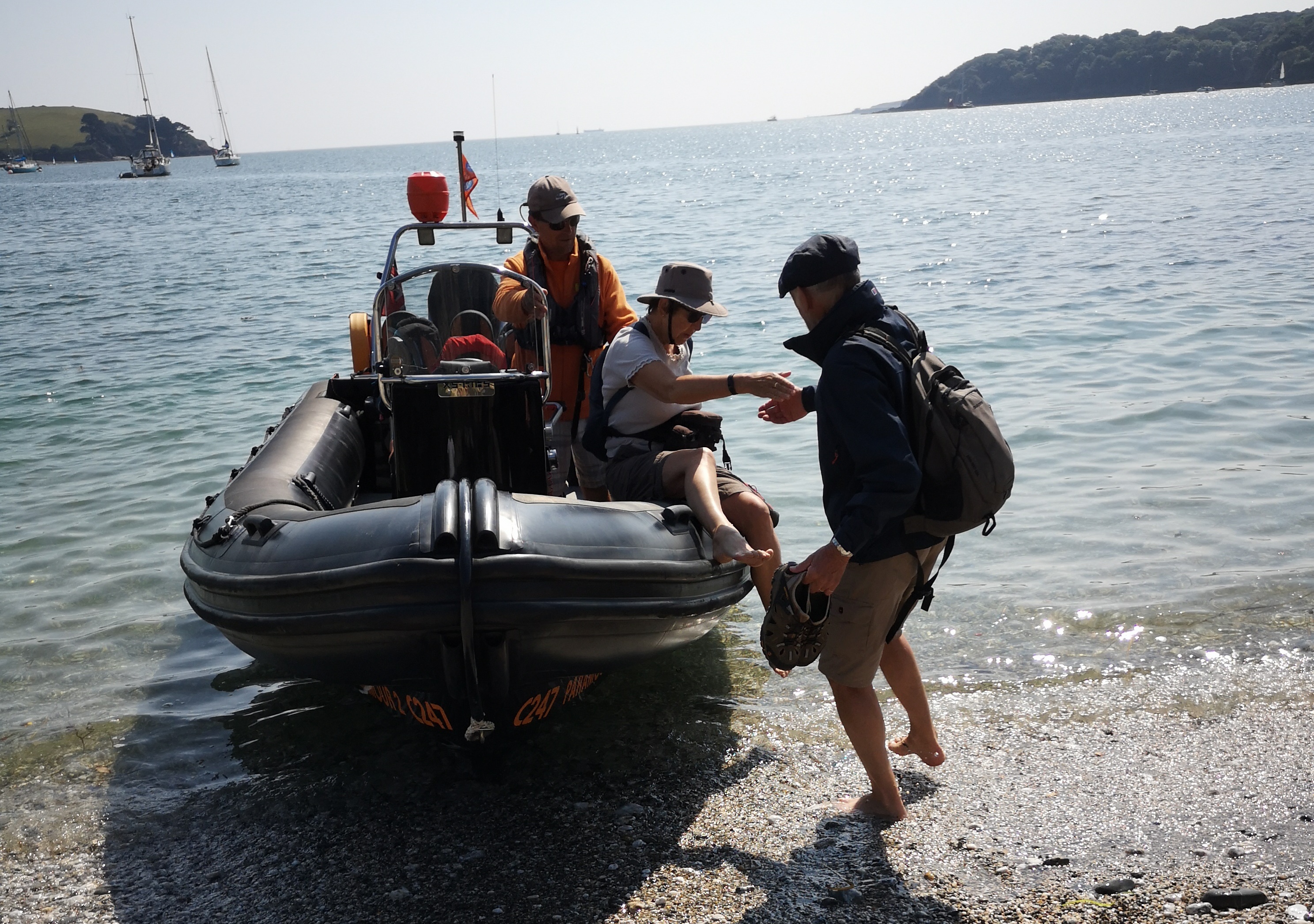 Thought about anchoring off a secluded cove for a wild swim from the boat?
I can supply you with buoyancy aids, instead of the auto-inflate lifejackets. That means you can keep them on if you wish when you jump in! I deploy a ladder so that you can get back aboard easily (not like the 2006 film "Open Water 2 Adrift"!).
Bring a warm drink for afterwards (an extra cup for the skipper is always appreciated…) and a towel. If you have a wetsuit you may like to wear it. If a party of adults I limit this to 7 passengers just for room on the boat, if you have some smaller children we can take 9. Email / call for details.
Everyone swimming should be competent, and confident in their abilities for this trip.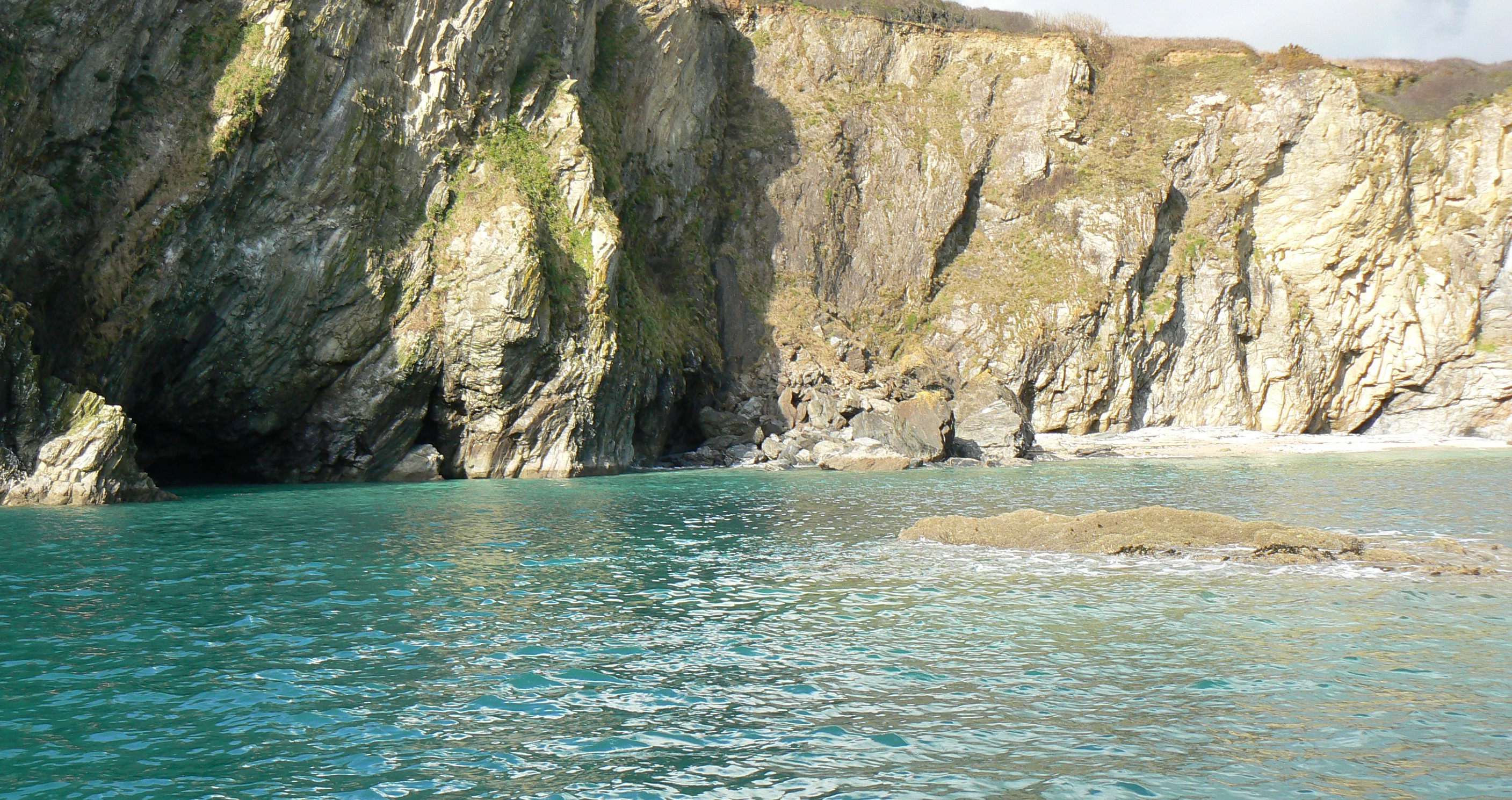 The above are just a few ideas you may like to explore. If you can think of something you would like to do send an email or give me a call to see if it's possible.
Paramour 2's licensed operating area is anywhere north of a line drawn from St. Anthony's Head to Nare Point. Nare Point is just south of The Helford. This means we have a cruising ground that includes the Helford River, Falmouth Bay, and the whole of the Carrick Roads to Truro.